Magento Upgrade for Love My Frames
Jun 10, 2011 · 1 minute read
Category: portfolio
Magento Upgrade with Custom Modules Rewrite
The aim of this project was to upgrade a store from 1.3 to 1.5, without losing the functionality of the site. The old version had had its core files modified, requiring a forensic examination of them in order to find and extract what had been changed.
Love My Frames
Love My Frames is run by highly trained technicians with over 40 years' optical experience, offering the kind of personal service you would normally expect from a high street opticians. Offering the best for considerably less, professional service and door-to-door delivery, they give their customers the ultimate shopping experience online plus the opportunity to purchase the very latest designs at a great price.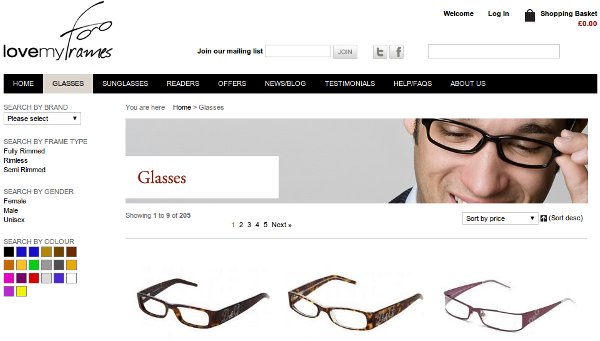 The project asked for a clean install and then rewrite of the existing store. The biggest part of the project was taking the existing layered navigation and rewriting it to work on all pages with a custom design.