Kevin Mayhew
Jun 9, 2011 · 1 minute read
Category: portfolio
Magento Site Upgrade
Kevin Mayhew Ltd. required their Magento site to be upgraded from Enterprise 1.7 to the current release. They are looking to do this because the current site is having problems with some of the functionality which can only be correct by upgrading an extension and the extensions latest version is not compatibility with 1.7. 1.7 is also preventing them from improving the site and adding functionality. This mainly involved updating their site templates to function correctly the the new release as well as resolving issues related to old/new extensions.
Kevin Mayhew
Kevin Mayhew is a Christian religious product and music retailer, Christian church resource supplier and Christian book publisher.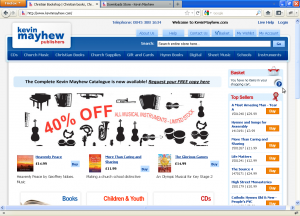 This project went really well with the pushing to live been successful. With the site now running the latest version of Magento the company can look forward toward to expanding the functionality of the site as well as resolving issues the old site was having.