Grass Seed Store - Migration from OSCommerce
Jun 9, 2011 · 1 minute read
Category: portfolio
Grass Seed Store – Migration from OSCommerce with Custom Functionality
The Grass Seeds Store wants to migrate away from OSCommerce to Magento in order to improve stock management. They also need to maintain DEFRA compliance and have custom reports generated to do so. The custom reporting was based on the sales of seeds.
The Grass Seed Store
The Grass Seed Store specialises in the sale of a many different types of grass seed, fertiliser and live stock pasture.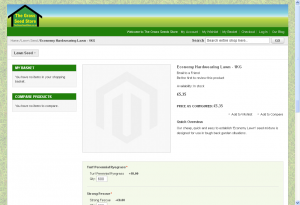 This project is a great example of customising Magento to be compliant with an industry governing body and shows that Magento can be used in almost any for the sale of any type of product. The project is currently a work in progress and the Magento implementation is currently only a wire frame demonstrating the functionality that is ultimately required.