Blind Express Free Sample Request
Jun 9, 2011 · 1 minute read
Category: portfolio
Magento Free Sample Request Custom Module
Blind Express required that their customers be able to easily request free samples of their products. This required that a custom extension be created and integrated with the existing system.
Blind Express
Blind Express specialise in supplying made to measure and custom window blinds.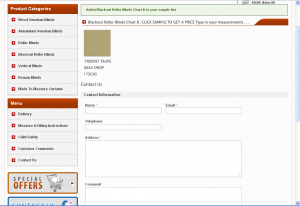 This project was a good challenge as the extension had to be integrated with previously existing custom product configuration.