Magento Certified Developer UK
Dec 12, 2012 · 2 minute read
Category: magento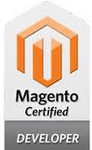 I'm really happy to announce that two of our team have now taken and passed the Magento Certified Developer exam. This means that they are now officially "Magento Certified Developers".
What that means for you is that you can be assured that we have the in house skills and experience to work the right way with Magento and really help you get the most out of the platform.
The reason we finally put them forward for the exam is that, after working with the platform for a few years now, we have decided to go down the official Magento partner route and get all the qualification and assurance that you could ask for by becoming an Silver Magento Partner and employing developers who are not only Zend Certified Engineers - a PHP qualification - but also Magento Certified Developers.
The exam asks questions on a wide range of Magento topics ranging from the basics through to layout, rendering and then more complex subjects such as the checkout, sales, API and more. You can download the official Magento Certified Developer study guide to see the full details of the areas that are discussed though suffice to say it is really quite in depth and broad. You definitely need to know Magento well to pass the exam.
For those that care the passing mark for the exam is 37 out of 70 questions. Our devs passed with 54/70 and 52/70 so really nailed it!