Zend Certified Developers
Feb 25, 2013 · 1 minute read
Category: featured
Edmonds Commerce employs a team of specialist PHP web developers who are all Zend Certified Engineers. This is a highly respected PHP qualification that ensures the highest standards of PHP development expertise. By achieving this certification we ensure that our developers have the kind of well rounded and deep understanding of the PHP language that can be utilised to achieve the highest quality production.
All of the e-commerce platforms, such as Magento and OpenCart are written in PHP and so the first thing to be sure of when you have a developer working on your projects is that they are very skilled in PHP itself as well as having an expert knowledge of the platform.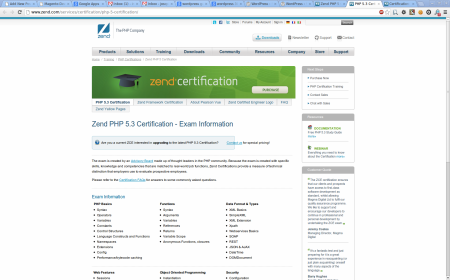 You can read all about the ZCE exam here.
In a nutshell the exam is designed to test knowledge and skill that a professional PHP developer would need to tackle the kind of day to day issues they are likely to face. The exam covers a broad range of topics and really tests the in depth and broad knowledge of PHP that is required to really get the most out of the language and deliver the highest quality PHP development.